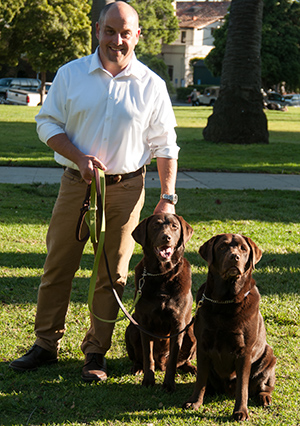 Nathan was just 10 years old when he started formal dog training at the Richmond Dog Training Center in Richmond, VA. Under the guidance of Ben Johns Jr., he trained his family's 4 month old Miniature Poodle, Mindy. Along with training Mindy to the highest obedience level, the Utility level, he taught approximately 3000 owners how to train their dogs. He was the lead instructor at the training center for 9 years.
Nathan also had the opportunity to work for several professional dog handlers where he learned the art of showing dogs. During his career, Nathan has led numerous breeds to the title of CH, CD, CDX, UD.
Nathan moved to Santa Barbara in 1999. He started his professional dog training business (formerly Santa Barbara Pet Services) in 2001 and has been training dogs full time ever since. In 2006, Nathan also earned a Bachelors of Science in Business from California State University Channel Islands.
Connect with Nathan on LinkedIn.
"I've found that most people consistently underestimate their dog's potential. My purpose in life is to help people bring out the best in their dogs…"